Skip to content
Skip to navigation menu
APEM FLAGSHIP PRODUCTS
APEM's abundant history of high-quality products due to their precise attention to detail and cutting-edge technology, has contributed to the group's impressive timeline.

Below is a selection of our flagship products, all of which are still included in our catalog several decades after their creation!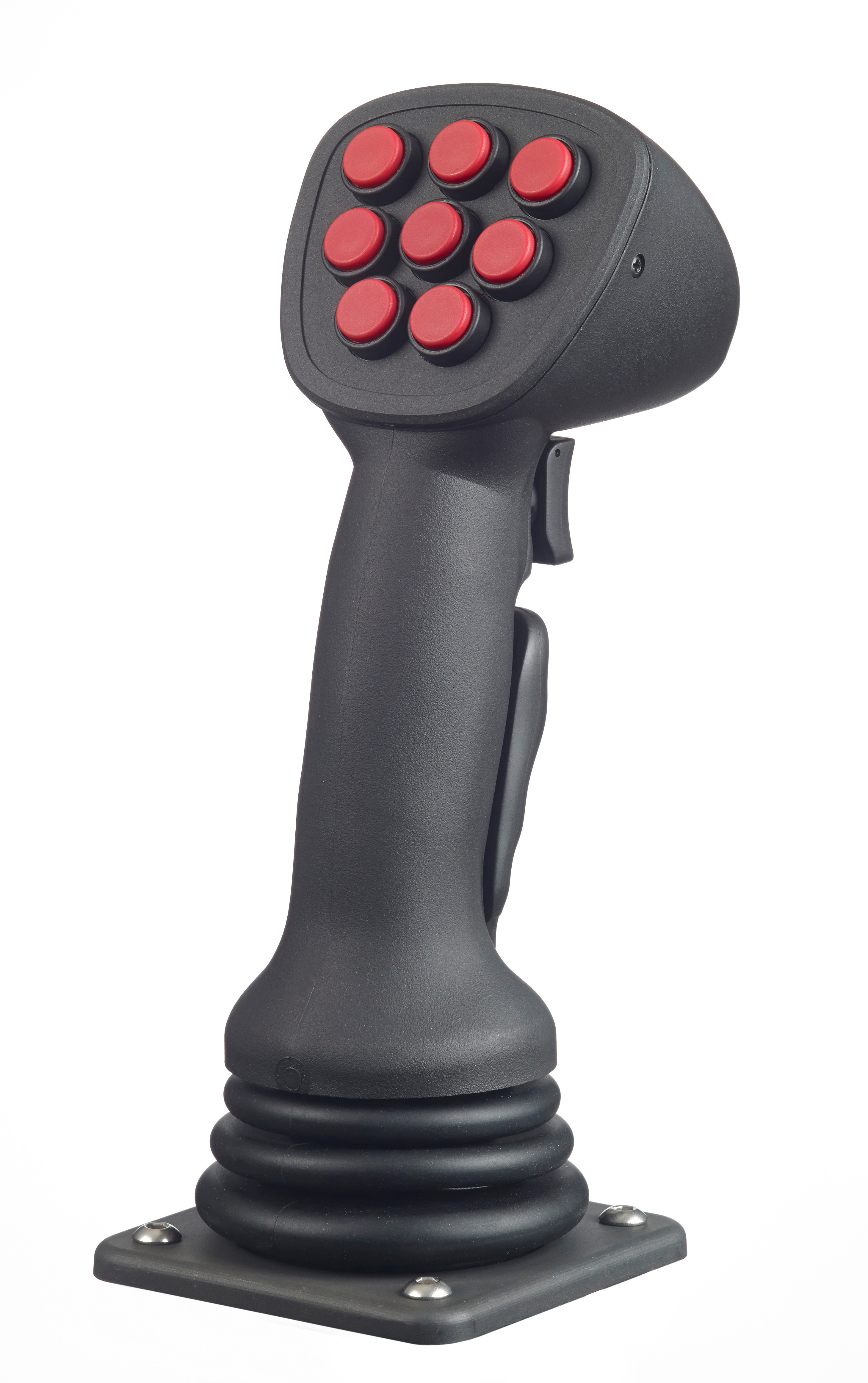 2018: XD Series
APEM designed the XD series specifically for specialty on-road and off-highway vehicle applications and has become a staple in the market.
Featuring redundant Hall effect sensors for high reliability and long service life, the XD series featured an internal CAN bus module to minimize overall mounting dimensions. The XD series withstands horizontal loads up to 400lbf., assuring the joystick is robust enough to survive the most arduous of operations.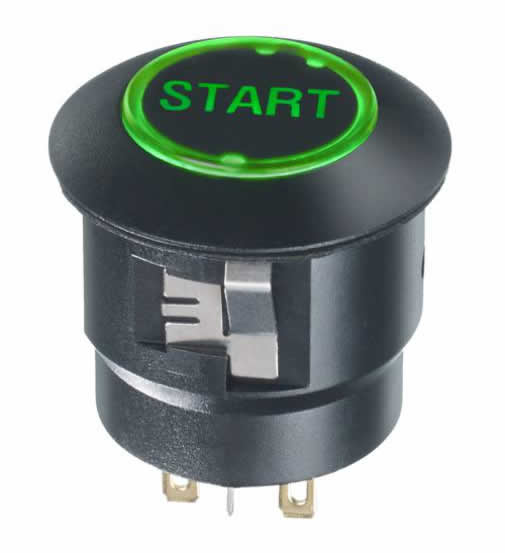 2015: FD PUSHBUTTON SWITCH
Double icon pushbutton switch

In 2015 APEM integrated a new technology allowing the display of two different legends depending on the actuator position.

The FD series is derived from the FP series launched in 2012, the first APEM pushbutton switch with fully illuminated actuator and a rare-on-market 24 mm diameter bushing.
The FD series is ideally suited for integrated designs where additional switches and indicators are no longer necessary.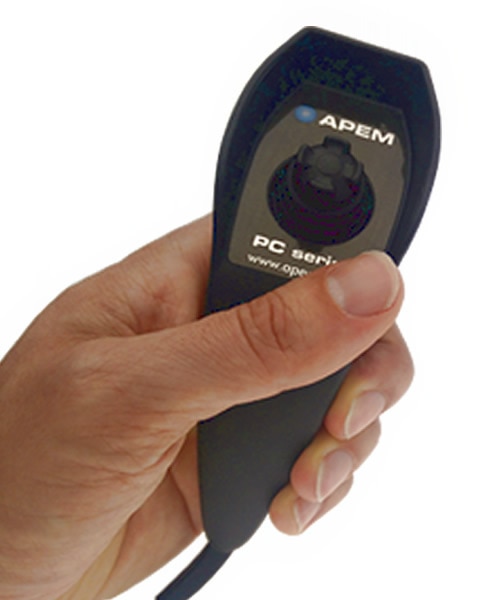 2015: PC SERIES PENDANT CONTROLLER
Ergonomic game style pendant controller

Faced with the development of unmanned vehicles, robotics, and other remote-controlled applications, APEM decided to optimize user comfort by developing an innovative and ergonomic pendant controller.
The PC series is lightweight, operable with one hand, and accommodates APEM's TS series miniature proportional joysticks and I series pushbutton switches.

This device is ideal for applications requiring precise and intuitive control.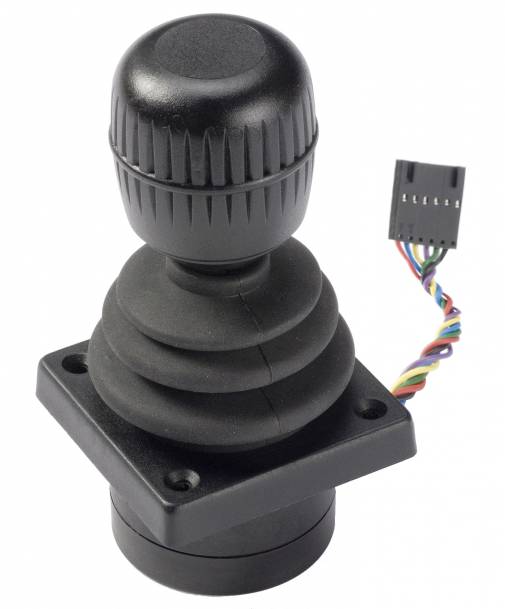 2009: 3000 SERIES JOYSTICK
A concentration of innovative technologies

Nine years after its market introduction, the 3000 series is still at the forefront of technology, with over 50 handles available.

APEM combined three innovations to develop this joystick: the lowest profile beneath the panel in the market, a ball socket mechanism utilizing metallic components for over 80 % of the working mechanism and single chip two axis Hall effect sensor technology dramatically reducing programming times and improving accuracy.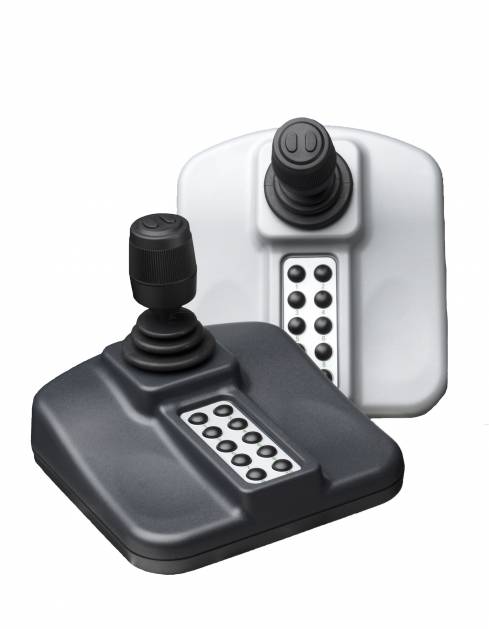 2005: IP DESKTOP USB JOYSTICK
The first joystick designed for network video monitoring applications

APEM developed the IP Desktop to offer a joystick specifically designed for network video monitoring. Since its launch, the joystick has become a standard in the range of "game controller" joysticks.
This efficient and easy to install IP Desktop features a three axis Hall effect joystick for intuitive control of pan, tilt and zoom camera functions. Moreover, APEM's engineers integrated a USB 2.0 interface for easy adaptation to software applications supporting USB joystick inputs via Microsoft DirectX.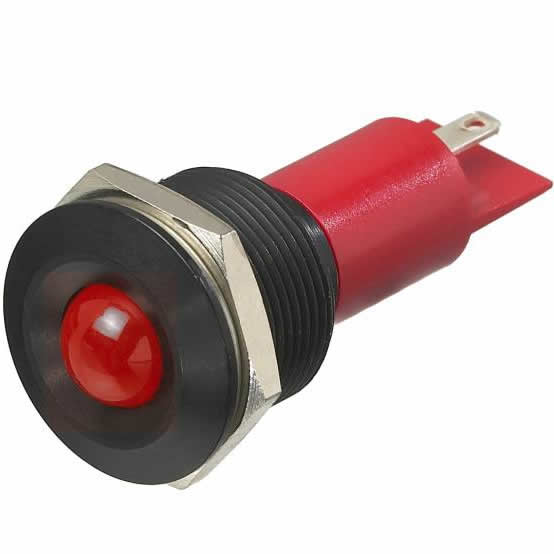 2003: Q SERIES LED INDICATORS
A family of indicators which keeps expanding

In 2003, thanks to a customer request, APEM decided to enter the indicator market with two bushing diameters 8 mm and 14 mm directed at the distribution networks, who quickly adopted the product and allowed for an expansion to new cut-out diameters and customization options.

The growing selection of products led to a global expansion into the OEM custom design-in market and new distribution lines.

Today the range varies from 6 mm to 30 mm with many customization possibilities (bezel shapes and looks, LED strengths and colors, sealing levels, harnesses, wire lengths, etc.). There is not a need that goes unseen with the Q series. There is even the NVIS range (night vision compatible) and stainless-steel versions for the defense and marine markets.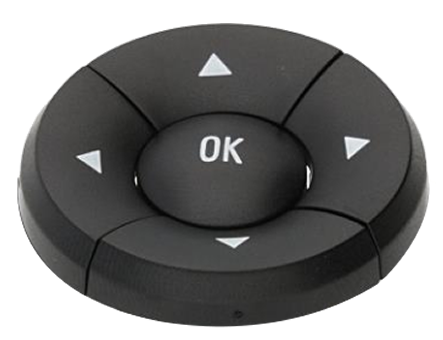 2002: NAVIMEC™
A high performance solution Navimec™

This five-position navigational switch was originally a custom product for a Danish manufacturer, TC, who used it for music controls and mixers.

The four outer caps are mounted on the switches with hinges giving the caps a rocker-like activation and binding the solution together like it all derives from the center cap.

APEM decided to call this MEC solution Navimec™ and proposed the product to all customers. Its success has led to other navigational solutions, like Controlmec, Rockermec and Ultranavimec.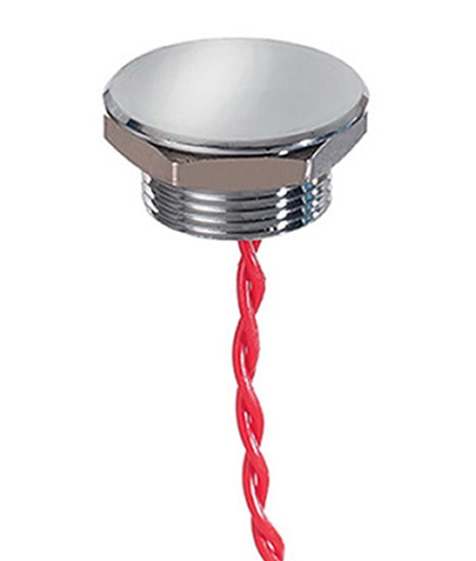 2001: PBA PIEZO SWITCH
The 50 million lifecycle switch

The "undying" PBA series was the first switch with piezo technology in APEM range.

With a very long-life expectancy and sealing level up to IP69K (highest rating) the PBA Piezo allowed APEM to gain access to the market of self-service bike docking stations, branded JC Decaux. Used in baths and spas or in the medical sector, the piezo switches can also be ATEX approved to meet the requirements of the mining industry as well as any other industry with a potentially explosive atmosphere.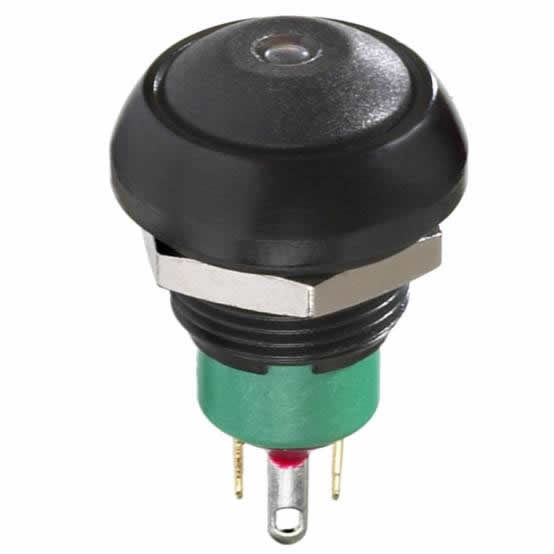 1996: IP PUSHBUTTON SWITCH
The bestselling pushbutton switch

Since its launch, the IP series pushbutton switch was destined to succeed!

This versatile pushbutton switch combined modularity and high performance and was designed for harsh environments.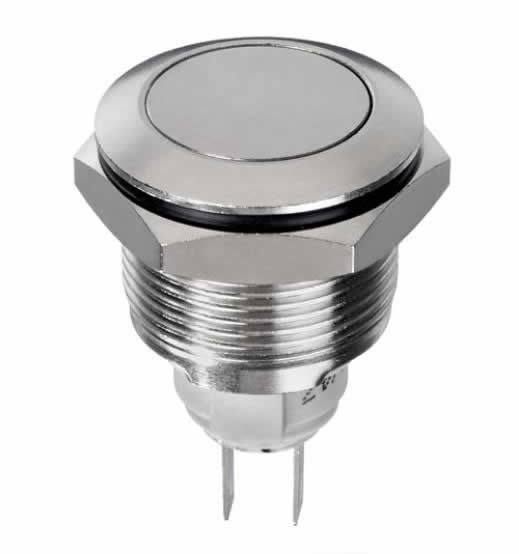 1990: AV PUSHBUTTON SWITCH
The most robust pushbutton switch

APEM's first fully metallic switch, the AV pushbutton switch, combined a robustness and sleek design. The series is IK & IP tested and qualified and can withstand all types of adversity (rain, frost, salt, UV rays, vandalism).

The AV series has been commonly used in demanding applications such as ticket dispensers for public transport, making it a highly distributed product.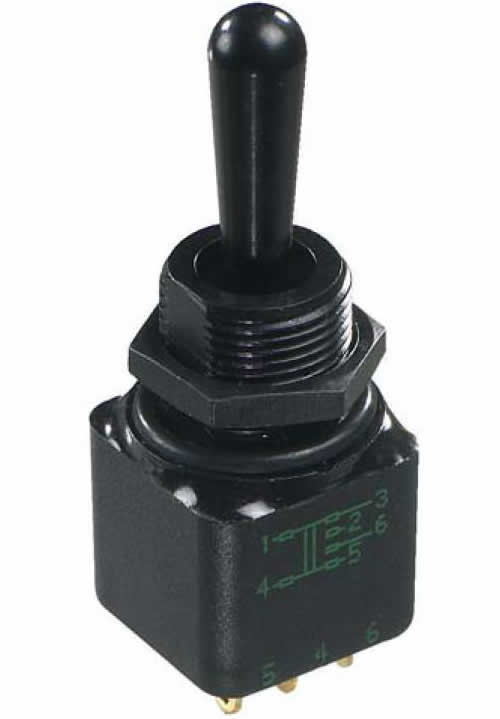 1989: 12000X778 TOGGLE SWITCH
At the end of 80's APEM introduced a "switch on steroids". A lot of small details, like a double shell case and pinned toggle, were stepped up to provide the toughest toggle switch on the market.

This particularly tough series is approved to CECC and MIL standards.

For decades now defense market leaders have placed their trust in the robust and reliable 12000X778 switches.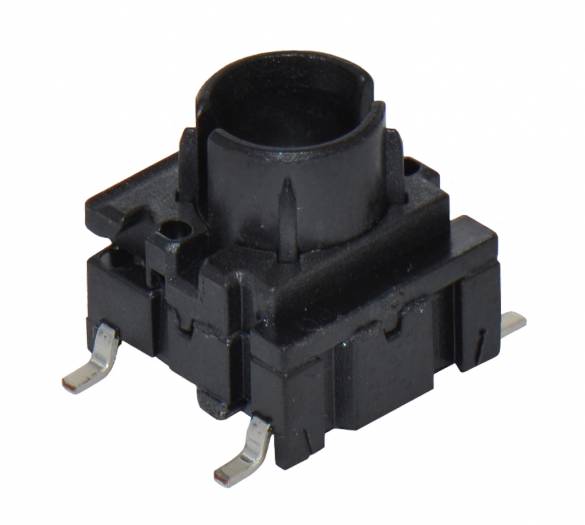 1989: MULTIMEC® PCB TACTILE SWITCHES
Award winning design

With a combination of the 1B cap and 2C bezel mounted on a 3A tactile switch, the Multimec® switch won the Danish Design award for the best industrial design in February 1990. Originally, there were 6 switch options in the 3 series with a few cap options for each switch.

The Multimec® line has been adjusted and updated throughout the years and now comprises of Multimec® 3 series (3C, 3E, 3F) and Multimec® 5 series (5G, 5E).
The accessory range has also grown into dozens of options in various shapes, heights, colors, surface feels, markings, materials, illumination and panel sealing possibilities.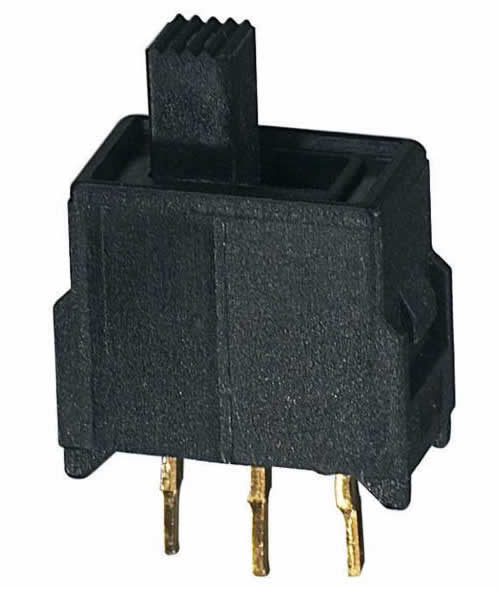 1982: TG-TL-TP-TR TINY SWITCHES
Subminiature switches designed for PCB mounting

In the beginning of 80's, to support the booming telecom industry, APEM developed a line of tiny switches.These toggle, rocker, pushbutton, and slide switches were designed for wave soldering onto PC boards and were developed with tape and reel packaging for automatic mounting.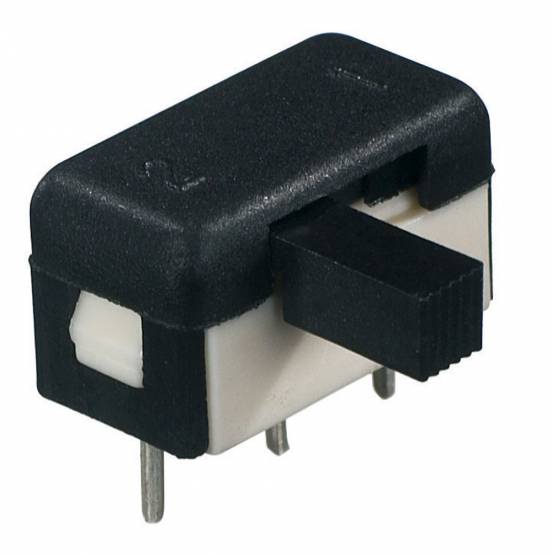 1976: 25000 SERIES
A product specially developed for one customer

In the late 1970's, APEM created its first switch specifically designed for one customer – a slide switch series for SIEMENS.
This German company had consulted APEM for the development of a quality switch less expensive than the one developed in-house.
This first experience with custom switch development was a success and the 25000 series met their requirements.

The switch was later adopted by the Canadian company MITEL.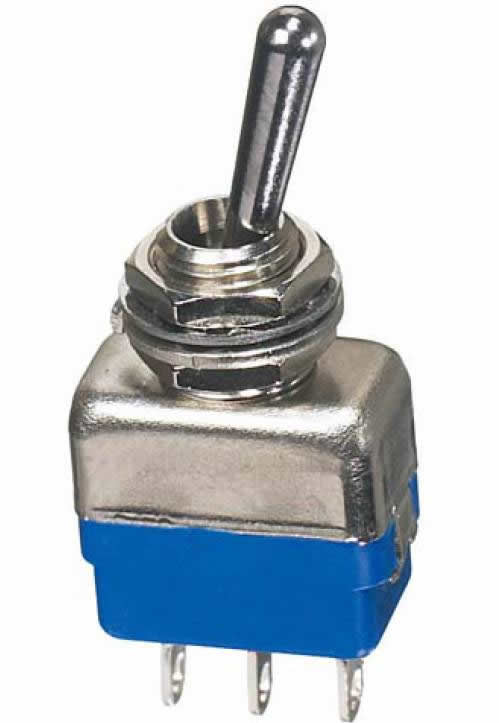 1970: 11000, 12000, 13000 SERIES
The arrival of miniature toggle switches

For the introduction in the PCB miniature switch market, APEM developed a new series of miniature toggles in Montpezat.

Thanks to the enormous success and the market potential of these new products the company decided to open a new factory in Caussade the following year.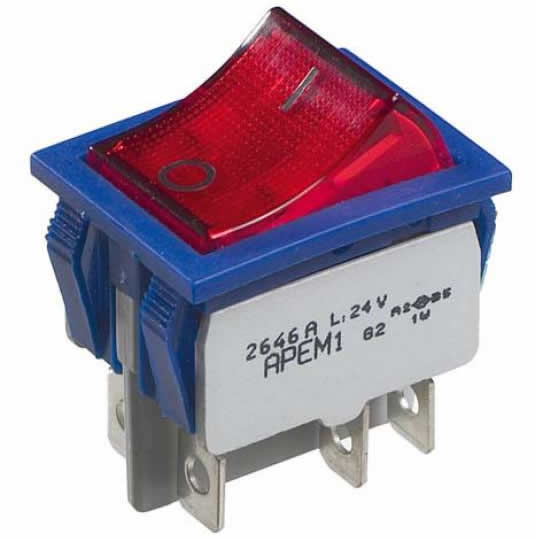 1966: 2600 SERIES
The first rocker switch

In the middle of 60's APEM modernized the design of its products by introducing plastic parts. Plastic allowed for better protection against electrocution risks and the use of colors to indicate critical functions.
It was also more flexible in design making it possible for APEM to introduce its first rocker switch.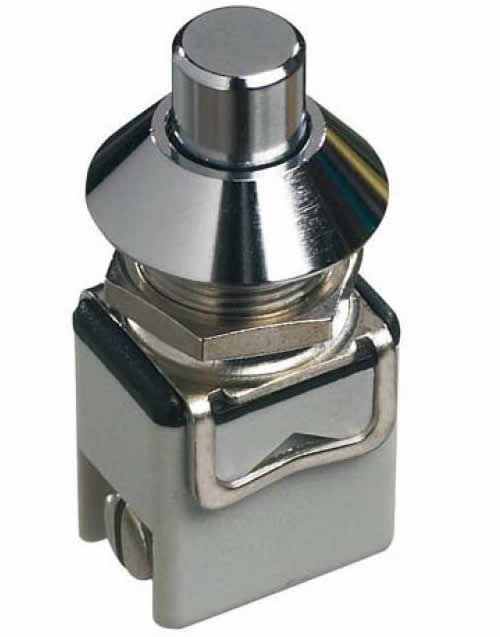 1962: 1000 AND 1200 SERIES
The first pushbutton switches

To meet market requirements APEM added a line of pushbutton switches to its product range. These switches were simple and efficient.

During the following years, pushbutton models with quick-break mechanisms were developed to reduce contact soiling and thus avoiding the creation of electrical arcing.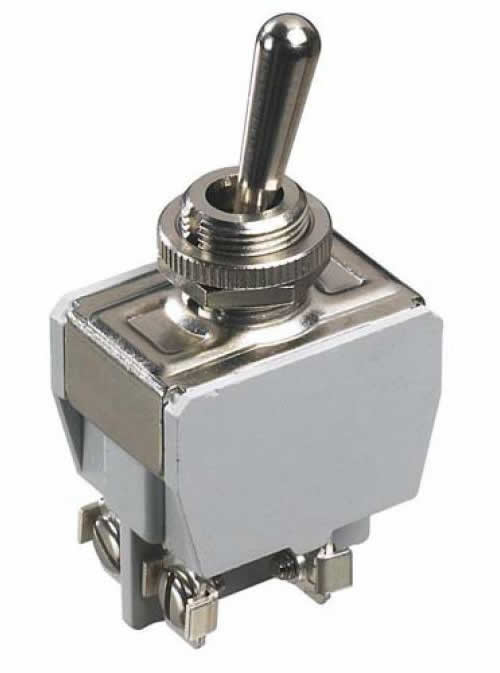 END OF THE 1950'S: 600 SERIES
The first 3-position toggle switch

Jean Rogero, APEM's founder, in his constant search for new products, designed the first 3-position toggle switch series. These products allowed switching from one circuit to another with a neutral point at center.
The 600 series was available in 1 pole, 2 pole, 3 pole and 4 pole versions.

This marked the beginning of a new strategic range expansion, with the intentions of fulfilling the growing needs of electronic customers and becoming a leader in a constantly evolving market.
1950'S: 400 AND 500 SERIES
The first switch series

Featuring roller or knife blade contacts, the first switch series were produced in the original APR factory.

Custom options were available, such as "Luxe", a chrome plated, polished toggle and nut or "Sealed" with a neoprene boot.