Skip to content
Skip to navigation menu
12144-3VX778
This range of professional toggle switches is suitable for use in military and other high specification environments.CECC and MIL approved.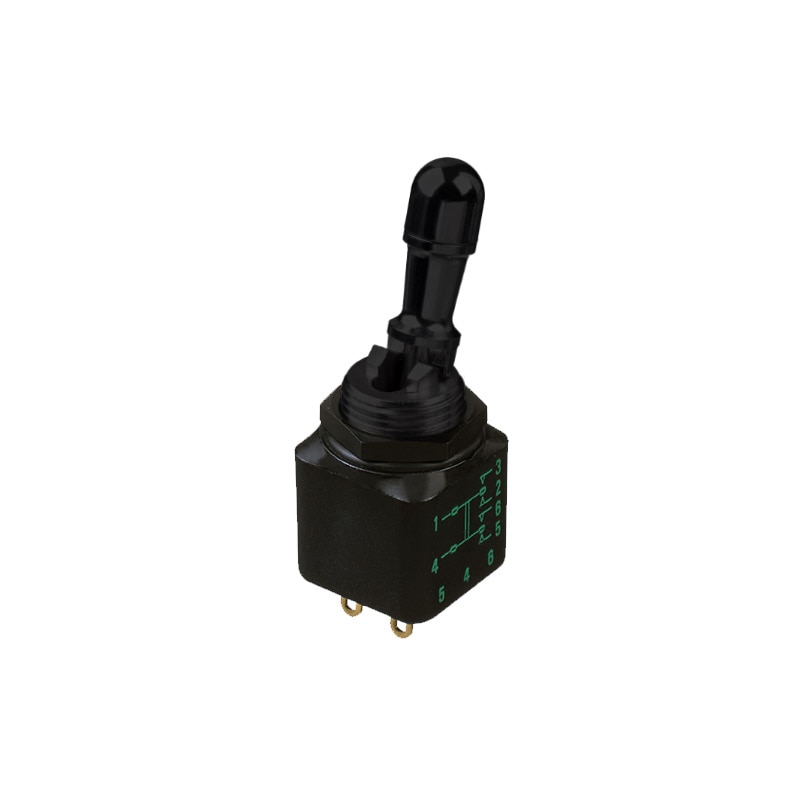 Key Features
Number Of Poles: Double pole
Electrical Functions: ON ON ON
Terminals And Bushings: Solder lug terminals
Series: 12
Levers: 3 locked positions
GET DATASHEET
DOWNLOAD 3D FILE
Specifications
Distinctive Features:
CECC approved - conforms to MIL specifications
Highly reliable contacts
Pinned lever
Double shell case for high mechanical strength and highelectrical insulation
Compact size
General Specifications:
Torque: 1.50 Nm (1.10 Ft.lb) max. applied to nut
Panel thickness: 8 mm (.314) max. - 3 mm (.118) min.
Electrical life: - At 4A 28VDC: 20,000 cycles (10,000 for functions 5, 4-1R, 4-2R) - At low level (50mV 10mA): 150,000 cycles (switches with 2 maintained positions) 100,000 cycles (switches with 3 maintained positions) 50.000 cycles (momentary functions 7, 8, 4-1R, 4-2R, 5)
Environmental Specifications:
Shock test: 50g - 11ms (IEC 68-2-27)
Vibrations: 10-500 Hz - 10g (IEC68-2-6)
Operating temperature: -40°C to +85°C (-40°F to 185°F)
Humidity test: 56 days, 93 % R.H., 40°C (IEC 68-2-3)
Salt spray test: 96 hours (IEC 68-2-11)
Front panel sealing by two O-rings flatted bush for precise orientation
Panel seal withstands 1 bar pressure and remains sealed even when the switch is operated.
Epoxy sealed terminals
Splash-proof case
Electrical Specifications:
Max. current/voltage rating with resistive load: 4A 28VDC
Minimum load: 10mA 50mV, 10μA 5VDC
Initial contact resistance: 10 mΩ max.
Insulation resistance: 1,000 MΩ min. at 500VDC
Dielectric strength: 1,000 Vrms 50 Hz min. between terminals 2,000 Vrms 50 Hz min. between poles
Contact bounce: 2 ms max.
Materials:
Case: diallylphthalate (DAP) with plasticexternal shell (epoxy sealed)
Actuator: brass, black chrome plated
Bushing: brass, black chrome plated
Contacts: solid rivet - gold plated silver/nickelalloy
Added to Your Cart