Skip to content
Skip to navigation menu
Military Standards Deliver Quality and Reliability
Military Standards Deliver Quality and Reliability
Equipment for military applications must be designed to withstand the most demanding conditions. They provide a superior level of reliability, even when exposed to harsh environments or subjected to frequent use. To ensure that components can deliver the high performance needed, manufacturers use quality certifications known as military standards.
There are military standards for all parts, components and systems that are intended for use in defense equipment. A military standard describes all aspects of the product, from its physical design and the materials it is made of to the testing it must undergo and the performance it must deliver. The military specification provides a kind of shorthand that demonstrates that a product will perform well in tough conditions, making it easy for customers to select components for military equipment.
Our quality system allows APEM to be a NATO-listed manufacturer. This means that our production line has been assessed to ensure that we manufacture products according to a strict process and are fully traceable. We offer a range of switches that comply with several certifications. The US military uses a system known as MIL, and our switches are governed by standards MIL-STD-3950 and -83731. Products that comply with these standards are added to the Qualified Parts List and are described as QPL-listed.
For European customers, our products comply with CECC 96000, a quality standard that defines the testing rules for switches. Our military-qualified toggle switches are governed by the CECC 96401-001, 96201-005 and 96201-008 specifications.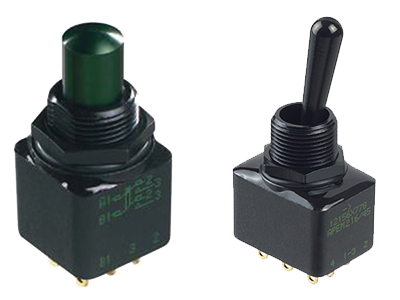 Switches that comply with military standards deliver quality and confidence to customers. Designed for the toughest conditions, the 12000 and 13000 series of compact switches from APEM are qualified to CECC and MIL specifications and will provide reliable service to customers in the military industry and beyond.
Furthermore, when you need a fully custom solution, we have the testing capabilities to ensure that the new HMI lives up to the required military standards.